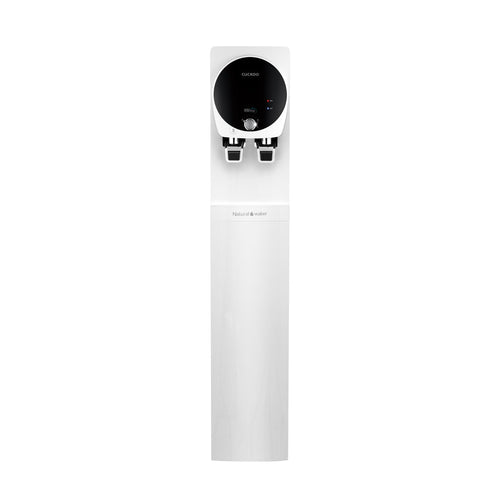 Mayim H2O
Freestanding Nano+ Filtration Water Purifier
OVERVIEW

Combining industry-leading filter technology, advanced features, and intuitive design, CUCKOO's water purifier line does exactly as advertised: purifies your drinking water for your health, safety, and convenience—all while instantly modernizing your living or office space. 

CUCKOO's Nano+ filters feature 4-stage filtration: a sediment filter to rid your water of impurities like rust, deposits, particles, moss, and sand, a pre-carbon filter to remove heavy metals, odors, chlorine, and VOCs, a mineralizer to add electrolytes, natural calcium, and potassium to your water, and finally a Nano+ filter to remove heavy metals and viruses.

HOT & COLD WATER:

 

Dispenses your choice of hot, cold, or room temperature water for all of your different H2O needs

HYGIENIC & SAFE: Features an anti-bacterial stainless steel water tank to ensure no bacteria or other harmful contaminants will begin forming

NANO+ FILTRATION: Automatically removes harmful impurities such as rust, microorganisms, lead, fluoride, odors, and chlorine 

HOT WATER SAFETY LOCK:

 

To ensure you and your family's safety, we've added a safety lock feature so that hot water will never be accidentally dispensed

SIMPLE OPERATION: Complete with a touch-control wheel for easy operation between seven different water temperatures and a mess-free paddle dispenser

PRODUCT SPECIFICATIONS

| | |
| --- | --- |
| Product Name | Freestanding Nano+ Filtration Water Purifier |
| Model Number | CP-KN501SW |
| Capacity | Cold: 1.3L / Hot: 1.0L |
| Dimensions | 45.3 (H) x 10.2 (L) x 19.4 (W) inches |
| Product Weight | 41.7 lbs. |
| Color | White |
| Available Temperatures | Hot, Cold & Room Temperature |
| Operation | Paddle Dispense |
| Auto In & Out Sterilization | No |
| Filter Replacement Indicator | No |
| Avg. Filter Life | Replace every 6-12 months |
| Certification | cETLus, FCC |
| Voltage | 120V AC, 60Hz |
| Made In | South Korea |
| Power Consumption | 400W |
| Accessories | 4 Nano+ Filters, Product Manual |
| Warranty | 1-Year Limited Manufacturer Warranty |
LARGE CAPACITY: With a 14.1L water tank, this purifier is perfect for heavy usage without needing to replenish often
ENERGY EFFICIENT: Its power-saving energy eye detects light and will automatically adjust the water purifier's power consumption when no light is detected
HOT & COLD WATER:

Dispenses your choice of hot, cold or room temperature water for all of your different H2O needs
HYGIENIC & SAFE: Features an anti-bacterial stainless steel water tank to ensure no bacteria or other harmful contaminants will begin forming
NANO+ FILTRATION: Automatically removes harmful impurities such as rust, micro organisms, lead, fluoride, odors, and chlorine
WATER LEVEL INDICATOR:

The real-time water level indicator found on the display panel will let you know when the water tank needs to be refilled
SIMPLE OPERATION: Complete with a user-friendly touch controls for easy operation between the three different water temperatures and a mess-free paddle dispenser
Product Description
Video
Reviews
PRODUCT SPECIFICATIONS
| | |
| --- | --- |
| Product Name | Freestanding Nano+ Filtration Water Purifier |
| Model Number | CP-KN501SW |
| Capacity | Cold: 1.3L / Hot: 1.0L |
| Dimensions | 45.3 (H) x 10.2 (L) x 19.4 (W) inches |
| Product Weight | 41.7 lbs. |
| Color | White |
| Available Temperatures | Hot, Cold & Room Temperature |
| Operation | Paddle Dispense |
| Auto In & Out Sterilization | No |
| Filter Replacement Indicator | No |
| Avg. Filter Life | Replace every 6-12 months |
| Certification | cETLus, FCC |
| Voltage | 120V AC, 60Hz |
| Made In | South Korea |
| Power Consumption | 400W |
| Accessories | 4 Nano+ Filters, Product Manual |
| Warranty | 1 Year Limited Manufacturer Warranty |
Features
Energy Save Function

Light sensor smart energy reduction

Cooling & Heating On/Off Switch

Individual power control to save electricity use

LED Mood Light

Illuminates dispense area

6 Stage in 4 Filters

1. Sediment
2. Pre Carbon
3. Natural (Post Carbon)
4. Nano Positive
Water Level Display (3 level)

Indicates internal tank level

Touch Control Temperature Setting

Adjust Hot/Cold temperature

Detchable Spigot

For easy wash

Stainless Steel Water Tank

Anti-Bacteria & Suitable for steam cleaning

Quiet Operation

43 Decibel noise level

High Capacity Tank

Total 14.1L
(Cold & Room 10.1L/ Hot 4.0L)
6 Stage Nano Positive Filtration with Mineral Infusion
Level

1
Sediment Filter
Removes impurities (rust, deposits, particles, moss, sand, etc.) up to 5μm.
Level

2
Pre Carbon Filter
Removes heavy metals, odors, color, organic substances, chlorine, THM, VOCs, and etc.
Level

3~5
Natural Plus Filter
Supplies critical mineral electrolytes (Calcium - Magnesium - Potassium) to produce mild alkaline healthy water.
Level

6
Nano Positive
0.01~0.001 μm NF membrane eliminates heavy metal, 99.99% of viruses & bacteria while passing minerals.
WANT MORE FROM US ?
We are here to help and answer any questions you might have. We look forward to hearing from you. We will respond as soon as we can.
Contact Us